Ana Morais Soares has just released her book 'Cosy Crochet Blankets to Snuggle Under' and is currently holding a virtual book tour, which I am very proud to be part of. Join me as I take a glimpse inside this lovely book (and share some of my favourite projects).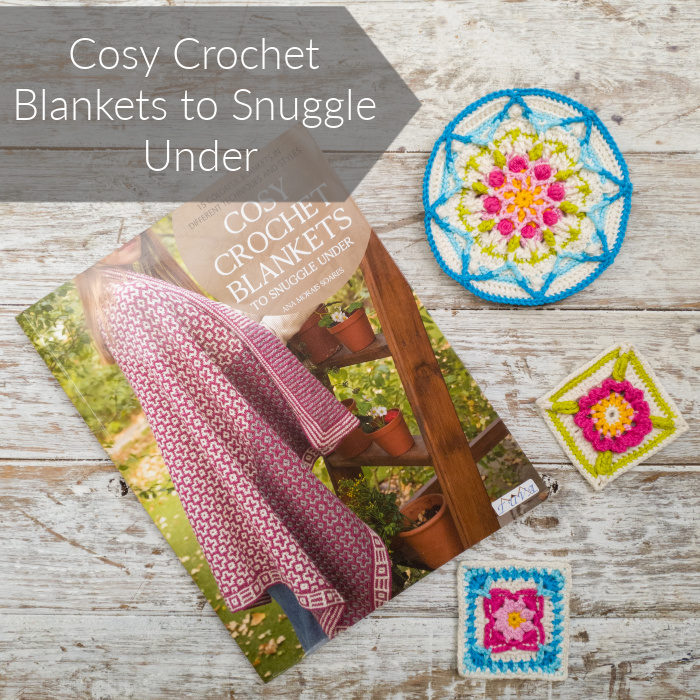 The Author
Ana is a Portuguese crochet designer with a history in publishing and public relations. I have been following her on Instagram for a while now, and love her designs and colourful feed. I am also extremely grateful to her for translating the Ubuntu CAL 2018 into Portuguese.
You can find her HERE:
The Book
The book contains 15 gorgeous blanket patterns, each with its own style and feel. The designs range from mosaic crochet to overlay crochet, with a pleasant mix of simple and complex designs. Through making the patterns, you will learn a variety of different stitches and joining methods, as well as how to work in rows and continuous rounds.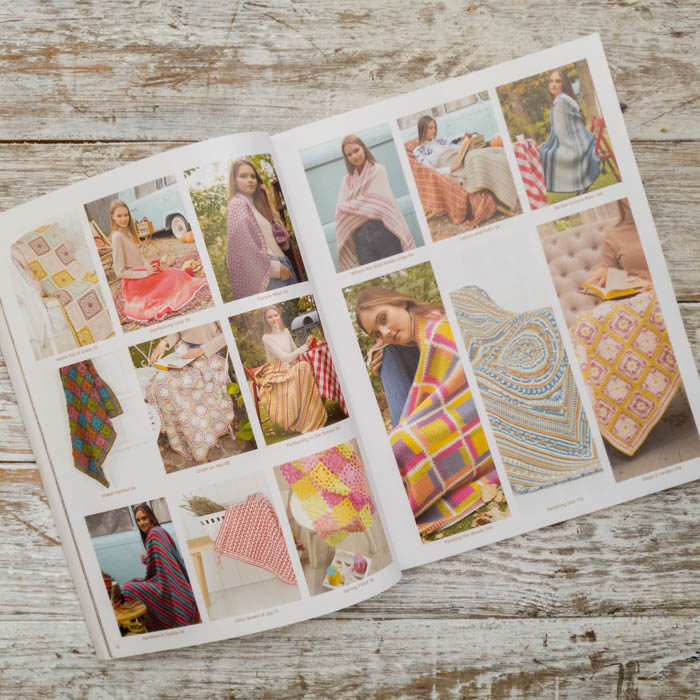 Each pattern is well laid-out, with clear progress photos and beautiful charts. It is clear that Ana has put a lot of work into making the patterns as easy as possible to follow. There are plenty of hints and notes along the way – something I always appreciate when following a pattern.
I especially love the fact that there is a straight-on photo of each blanket so that you can see exactly what you are aiming for. The fold-out flap on the front page is also great for helping you keep your place as you work. I love that it contains the most-used abbreviations and chart symbols, meaning that you don't have to go hunting for them every time you want to remind yourself what something means.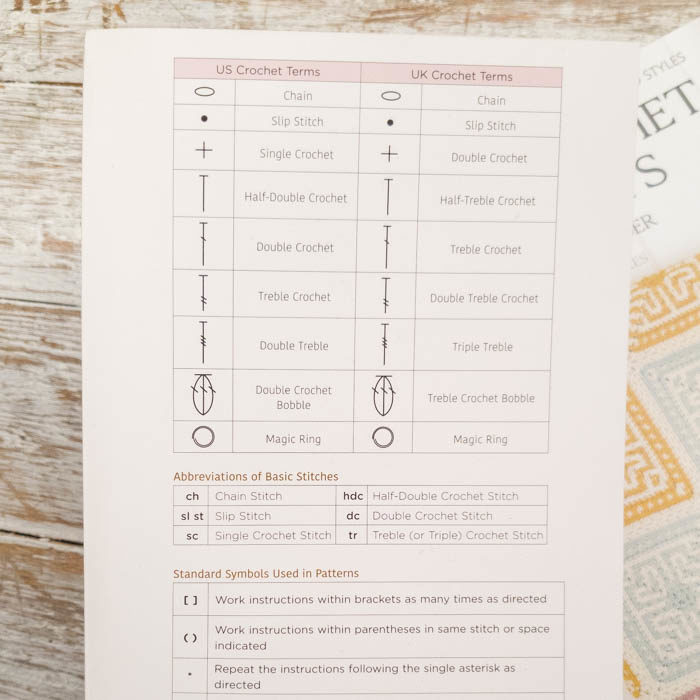 Details:
144 pages (premium glossy paper – I'm a sucker for nice paper!)
15 Patterns
Published by Tuva Publishing
Features Scheepjes yarns
Cosy Crochet Blankets to Snuggle Under is available to buy from Amazon.com and Amazon.co.uk.
You can use the Look Inside option to see an example of the quality and layout of the instructions.
The Projects
After making Mary's Memory, I seem to have gotten merrily stuck using the same rainbow/cream combination of Scheepjes Catona. I quite like the fact that I now have a whole host of tiny samples/projects in the same colours. It will make it much easier to marry them in the future, should I choose to do so. It should come as no surprise, therefore, that I chose the same colours when taking this book for a test drive.
I decided to make two motifs to begin with. I chose Flower Patches and Daigo-ji Garden.
Flower Patches is a pretty little floral square. The ones in the book are made with Scheepjes Stonewashed and Riverwashed, creating a stunning midnight-garden feel.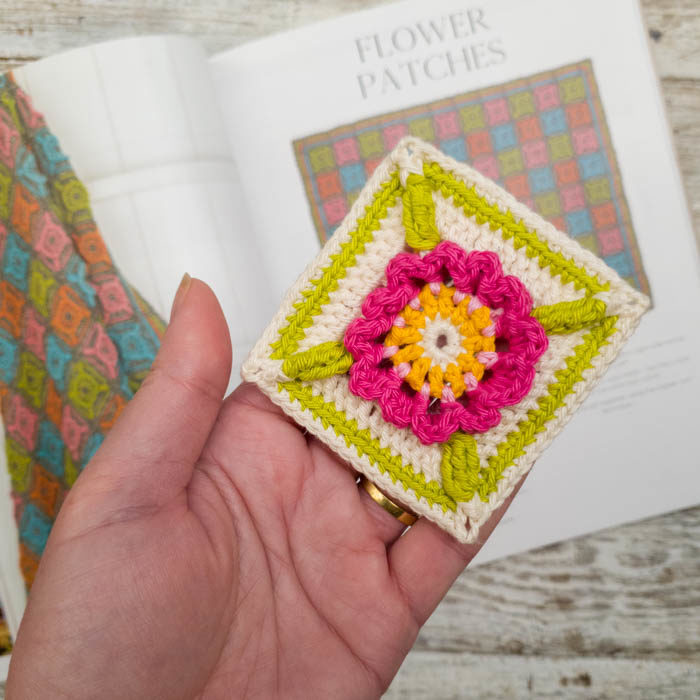 The square I made in Catona is much more light-hearted and Spring-y. I love how changing yarn and colours can so completely alter the feel of a project, allowing you to celebrate your own personality.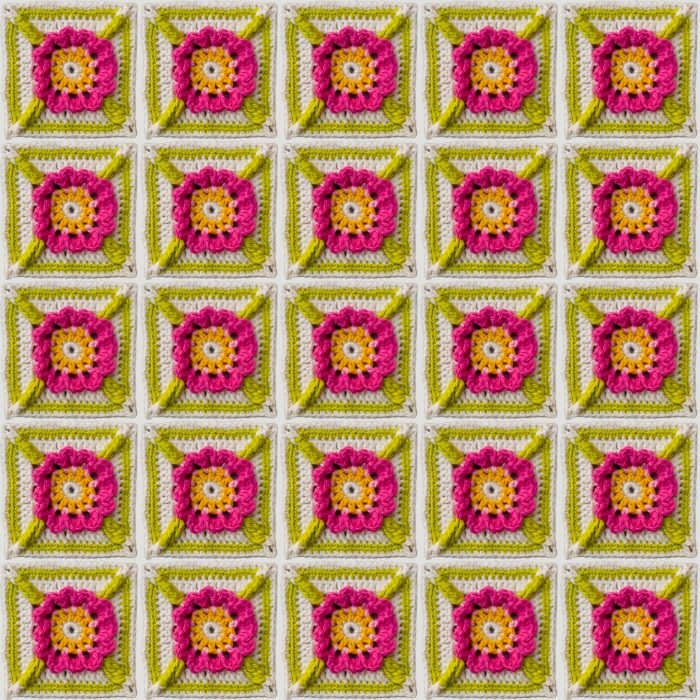 Daigo-ji Garden is a much more subtle motif.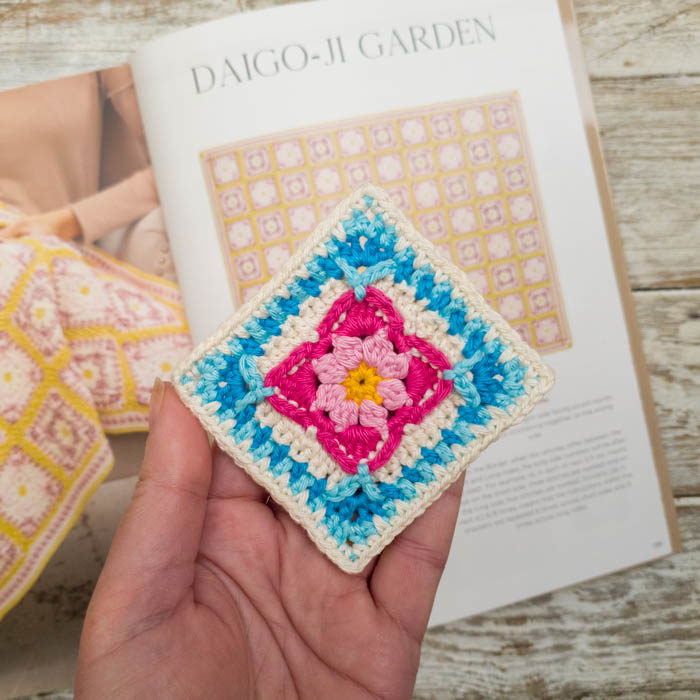 My favourite thing about it is the way the cheeky corner details look like butterflies landing on the central flower – or is that just me?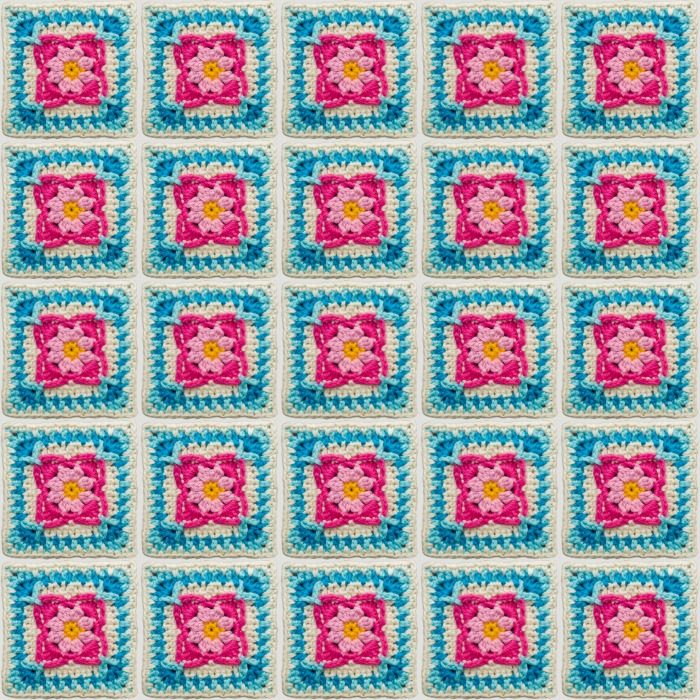 As they both have the same number of stitches in the final round and work up to the same size, I couldn't resist marrying them in a collage. I think they would make a beautiful blanket or cushion cover.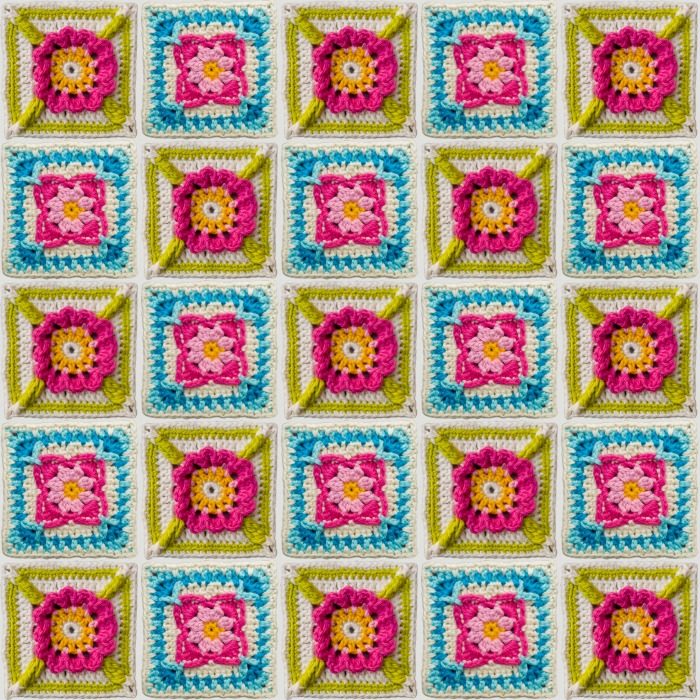 I was tempted to start just one more thing: Twinkling Star, which is a large blanket made in continuous rounds. The blanket has enough surface work to keep it interesting without overwhelming the eyes. I love the balance of it, and hope I can find the time to continue with it.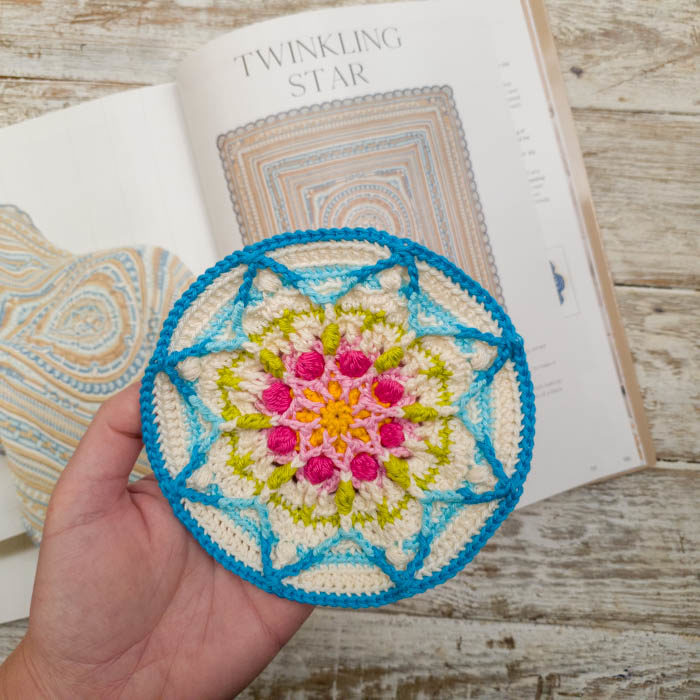 More Book Tour Stops
Yesterday, Hattie Risdale from The Petal Shed shared her makes on Instagram. Tomorrow, Tamara Bollo from Crochet.Love.Happy will be sharing some of her favourites.
You can find all the stops on the tour HERE on Ana's Blog.

This blog post contains affiliate links. I only link to products I personally use or would use.  All opinions are my own.