I have recently published my second book, 'Big Hook Rag Crochet', and to celebrate I will be doing a blog tour. The blog tour will run for 11 weeks and each weekly post will feature a giveaway for one free copy of the book (open to US residents only).
The tour will start on the 7th of December (2015) and end on the 14th of February (2016). Below you will find a list of the participating blogs and dates. I will update this list with the direct links as the posts go live.
Big Hook Rag Crochet
To get the party started, I thought I would tell you a little bit more about the book and the awesome designers that have contributed to it.
Big Hook Rag Crochet is dedicated to the memory of Marinke Slump, contributing editor of Boho Crochet (by the same publisher) and the designer behind A Creative Being.
The book features 25 designs for stylish homeware and accessories, each made with fabric yarn. Instructions are supplied for making your own fabric yarn, which is perfect for turning unwanted garments into pretty things, but you can also use ready-made fabric yarn if you do not wish you create your own.
You can see all 25 projects HERE on Ravelry and you can buy the book on Amazon.com and Amazon.co.uk
.
The book is written in such a way that both beginners and advanced crocheters will be able to follow the patterns. The technique section is thorough and I enjoyed every minute of creating it (both writing the instructions and attending the photo shoot for this part). The photographer, Simon Pask, is an amazing photographer and you can see more of his work HERE.
I also had a lot of fun making the pouffes for the book. So much fun, in fact, that I might need to do another post about those at a later date.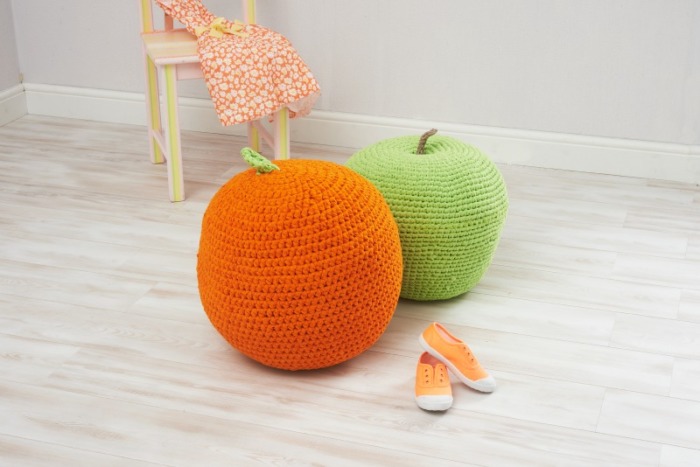 I like the apple the most. It took me ages to figure out how to do the increases to create a less rounded apple.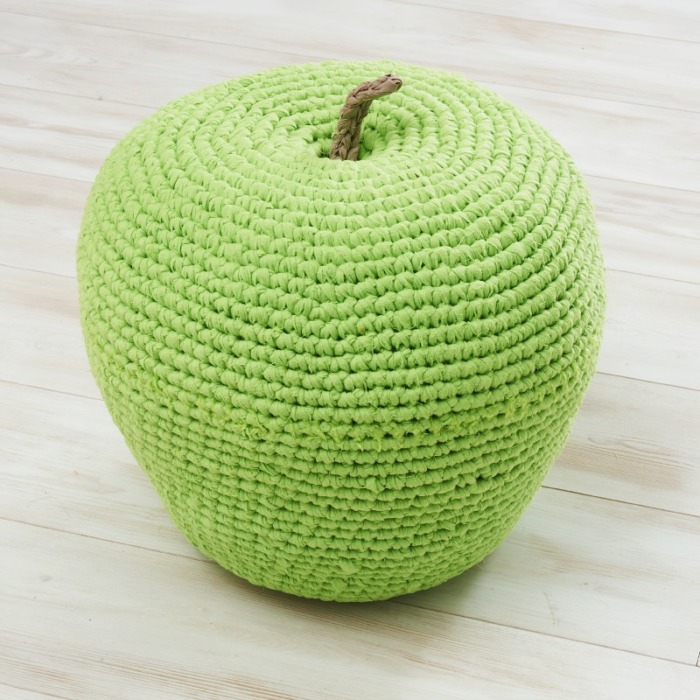 The orange was easier to figure out and I really like the simplicity of the maths behind creating a half-double crochet sphere.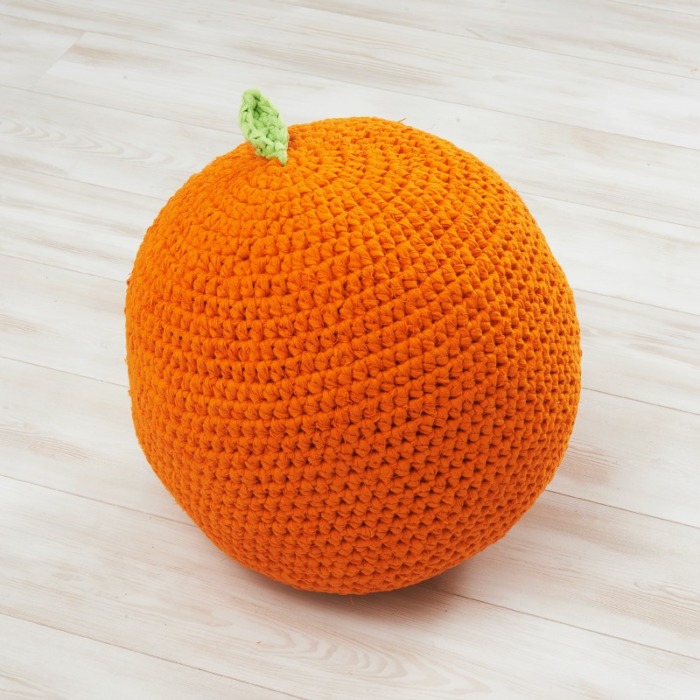 One of my favourite projects in the book is this Balloon Rug. It is so happy!
I also love this Simple Shopper with it's bold colours and leather handles.
Erin Black's Cozy Cat Cave is another great project!
Contributors
As I have already mentioned, this book is a collaborative effort. If you would like to find out more about the designers involved, you can find them all in the list below.
Fabric Yarn
US
Lion Brand Fettuccini – this yarn is sent out in random colourways because it uses repurposed materials. You do not get to choose the colour/pattern of the yarn.
UK
And that is everything I want to say about Big Hook Rag Crochet! Please pop back to find the links for the giveaways. And if you have bought the book, I would really appreciate it if you would leave a review on Amazon. If you do leave a review, let me know so that I can thank you.
My first book, Amamani Puzzle Balls
, is available from Annie's in both paperback and electronic format. You can also order it on Amazon.com or on Amazon.co.uk.

This blog post contains affiliate links. I only link to products I personally use or would use.  All opinions are my own.