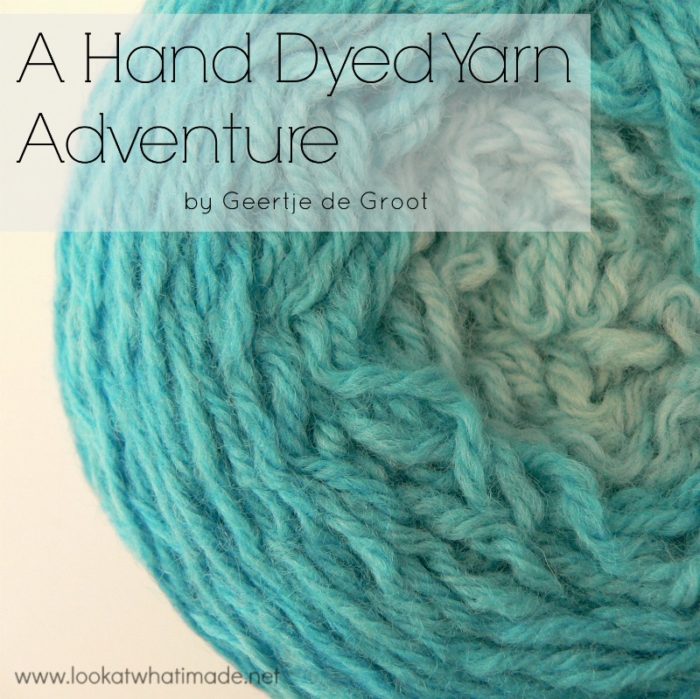 As part of the 'Say Thank you with a Ball of Yarn' initiative, started by Katryn Jackson in the Official CCC Social Group on Facebook, I received this ball of hand dyed yarn from Geertje de Groot. Not only did Geertje send a ball of hand dyed yarn to Kimberly and myself, she also sent us a lovely letter documenting the whole process.
I asked Geertje if I could share her words and photos with you, and she very kindly agreed. She has inspired me to not only make stuff with yarn, but to also try my hand at dyeing (although it might be a while before I actually get to it).
If you would prefer not to read this post, but you want to find out more about dyeing your own yarn, 'Hand Dyeing Yarn and Fleece' is a brilliant book to get you started on your journey.
A Hand Dyed Yarn Adventure
by Geertje de Groot
Dear Dedri and Kimberly,
How can I thank you two ladies? You helped me get back my creativeness on more than one level. Thank you for Sophie and all of her various stages! Thank you for the excellent tutorials (they're not patterns, they're tutorials to me, haha). Thank you for the facebook group and the admin on that, it helps a lot and it's a bright spot in the day looking at it.
I wanted to send you both a ball of thank-you-yarn but couldn't find anything to my liking. I wanted it to be very special yarn, special like you ladies…
So I started searching for one-of-a-kind-type-of-yarns and came to hand dyed yarns. That's where the next level of creativeness kicked in, I thought: 'I want to hand dye Dedri and Kimberly their own special ball of yarn!' Since then I've been submerged in the internet on dyeing yarn, thank you thank you thank you!
Here they are, my very first attempts on dyeing yarn and I wanted to show you both how it went….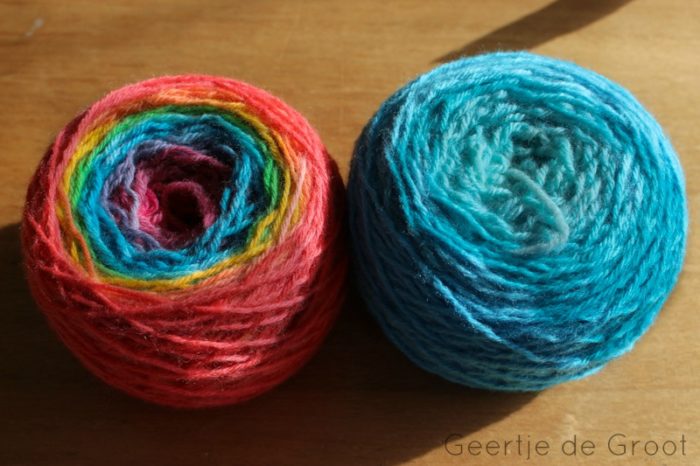 I ordered some eco wool from WolUniek, a shop here in the Netherlands*. And oh the smell that came from opening that box, fresh wool, I love that! The nice lady even put in a bag of tea, so thoughtful.
It is 100% eco wool
200 meters a skein
100 grams a skein
needles 3,5 – 4,5 mm
handwash only
*You can buy undyed yarn from Amazon.com as well.

Reading on the internet, and deciding on what I wanted to do, I quickly realized that I needed a circular knitting machine. I knitted two blanks, not sock blanks (double thread) but single blanks*.
*A blank is a pre-knitted tube that allows you to dye your yarn in such a way that you get a self-striping yarn with a longer colour repeat. You can use any circular knitting machine. If you do not want to buy an expensive knitting machine, you can always get a 'toy' one like this Singer Knitting Machine. Be warned, though, that the frustration level with this one is high. If you want to buy a proper circular knitting machine, the Addi Express Professional (22 needles) or the Addi Express King Size (46 needles) both have excellent reviews. I hope to buy the King Size soon.

After that I had to decide on colours. I went for a slow gradient of blue for Dedri and a slow gradient rainbow for Kimberly. Why? No idea, just seemed to suit you. If not, sorry!
I used two different techniques:
I happened to have food colour as I used it to make birthday cakes. So that's what I used. And of course water and white vinegar. For Rainbow I bought squeeze bottles. Which my youngest liked very much as she wants to use them to make fancy pancakes.
So, here we go, a photo report on Blue and Rainbow. I hope you enjoy as much as I did and that you can put your wool to good use somewhere.
Thank you again!
Love, Geertje
Blue and Rainbow
Dye bath for Blue. Rainbow is ready to get painted.

Blue: Here she goes. Rainbow: Halfway painting, loving the colours but nervous if it will really work, lol.

Blue: Taking out the top part to dye it lighter, leaving the rest in the bath. Rainbow: All painted, wrapped up in saran wrap and placed into a microwave safe dish.

Yes, the colour and the success did make me giggle. Blue: Into the rinse bowl. Rainbow: Into the microwave.
Blue: First time I saw Blue untangled, yeey! Rainbow: My youngest was with me while dyeing and wanted to know if we had to send her away, she loves rainbows. And so do I! Look!

All rinsed and dried.

Blue: Now to wind her in a cake. Luckily I bought a yarn winder for Sophie! Rainbow: And also on to the ball winder*. No picture of that, sadly.
And so Blue and Rainbow are born.
*After a little poll I did two weeks ago, I have decided to buy myself a Stanwood 10 oz ball winder (which is currently on special at 29% off). I need to thank Kimberly Slifer from Just a Girl and a Hook for giving me a Skype demonstration of how well it works.
I would like to thank Geertje for letting us join her on her journey.
Have you dyed your own yarn? Jenny and I would love to know if you have any tips, so feel free to share them in the comments below.

This blog post contains affiliate links. I only link to products I personally use or would use.  All opinions are my own.