I've got some exciting news for those of you who want to make the Optional Squares (Jack and/or Lydia) and Betty's Beautiful Border in Scheepjeswol.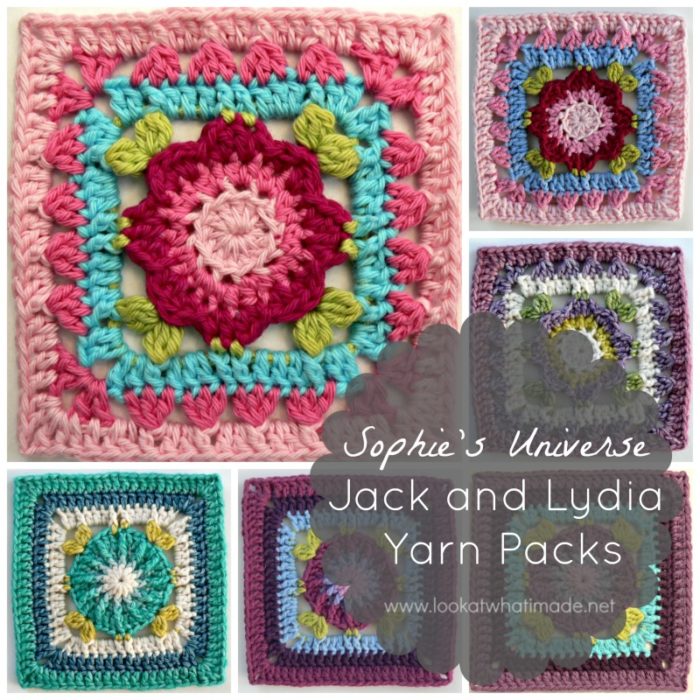 Colour packs are now available Internationally from Wool Warehouse and Deramores. The packs are available in Cotton 8, Softfun and Stonewashed XL. Each colour pack contains enough yarn to complete the border and 18 squares (either Jack or Lydia, depending on the pack you choose).
If you are using a different yarn, and would like to know how much yarn you will need, please have a look at the estimated yardages for the optional squares and border.
For the colours used per round, or to see individual pictures of each square in the different colourways, you will need to consult Part 19 of Sophie's Universe.
If you have absolutely no idea what Jack and Lydia are, have a look at the Sophie's Universe CAL 2015 to find out more.
Before I go, I just want to say that I love seeing all your Sophies being completed.  Please continue to share them!  If you need a little bit of a reminder about all the ways in which you can share your work, visit the information post for Sophie's Universe, where you can find all the details.
Remember to subscribe to my Weekly Newsletter if you would like to be kept in the loop. You can also like my Facebook page or follow me on Bloglovin, Google+, Pinterest, Twitter, or Instagram.
Happy Hooking!