I had the privilege of testing this V-eekender Scarf pattern for my friend Kimberly Slifer. This is her debut pattern and I think she has done an amazing job! For those of you who don't know Kimberly, she is the driving force behind the Block a Week CAL 2014 I have been blogging about all year.

She is such a sweetheart and this pattern is just brilliant!  It shot to the number 1 spot on Ravelry within hours of being released.  I think that is quite a feat.
You can find the free pattern HERE on Ravelry.
I originally started this scarf using Deborah Norville Everyday Worsted Yarn in Northern Lights.
I'd bought 4 skeins (and paid a lot for the shipping), but when my first skein ran out, I couldn't find the other skeins!  The horror!!
I had to abandon my first try and start again.  I didn't have any other worsted weight that I wanted to use for it, so I improvised and used 2 strands of Stylecraft Special DK and an 8 mm hook instead.
I am calling these colours "Autumn Rainbow".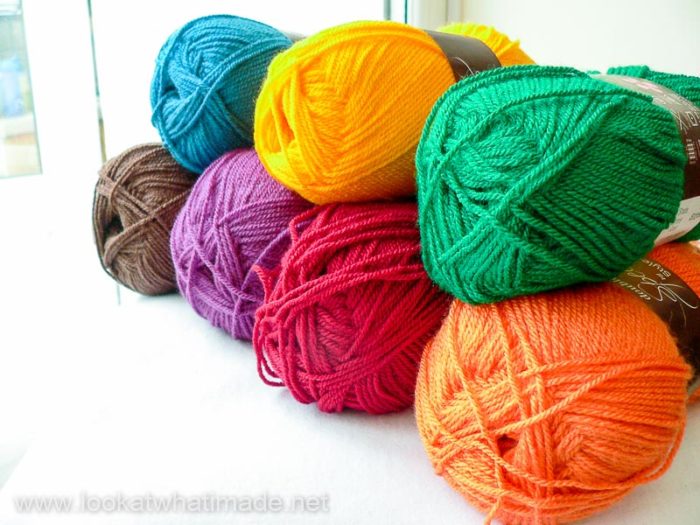 They are:  Sunshine, Spice, Claret, Plum, Petrol, Green, and Walnut.
As most of you already know, I work 4 days a week and have 3 boys, 1 cat, and 1 husband.  My time is at a premium, so I crochet anywhere and everywhere I can.  This scarf was completed on my journeys to and from work.
I have no problem walking and crocheting at the same time.  Probably because I spent most of my childhood and early adult life reading whenever I found myself having to walk somewhere.  If I had a penny for every time someone said:  "You're going to walk into a pole one day", I'd be a rich woman.
This was the first day of commuter-crochet.  At this point it was still easy enough to crochet while standing, because the scarf wasn't that big yet.
Here I am waiting for a Picadilly Line tube…
And here I am ON the Picadilly Line tube.
On the way back home it became more tricky to hold the scarf up while crocheting.  Hence the pinky stuck through my work.  It helps keep the tension off the stitch I am making.
 On Saturday we went over to some friends for a barbecue.  The V-eekender scarf came along.
By Sunday it was all done.  The boys kindly agreed to model for me :) 
Using 2 strands of double knit yielded a large, thick scarf that is more autumn shawl than dainty scarf.  In fact, there's no way I can use it as a scarf.  But it is going to be awesomely warm in the Autumn :)
If you like crocheting in funny/unusual places, you can add your photos to Instagram with the hashtag #whereicrochet.

This blog post contains affiliate links. I only link to products I personally use or would use.  All opinions are my own.